Aspiring to study in the United States? Having difficulties in laying out the groundwork? Don't worry! This article on how to apply for US student visa? will guide you in the best way possible.
To start off, you must clearly know which of the U.S. visa categories you might be needing to apply for- F-1 visa or M-1 visa- which is determined by your course of study and the type of school you are considering.
For the purpose of attending a university or college, high school, private elementary school, seminary, conservatory or any other academic institution (including a language training program), you will require the F- 1 visa.
On the other hand, for attending a vocational or other recognized nonacademic institution (excluding a language training program), you will need to obtain the M-1 visa.
Note: Students are not allowed to travel on the basis of holding a Visa Waiver Program or Visitor (B) visa, unless they wish to take on recreational study as a part of their tourist visit to the U.S.
Acceptance by an SEVP Approved School:
Prior to applying for an F or M student visa at a U.S. Embassy or Consulate, you need to apply as well as be accepted by an SEVP approved school. You will have your enrollment done in the Student and Exchange Visitor Information System (SEVIS), once you get an acceptance from the particular U.S. school you wish to attend. You will be needing to pay the SEVIS I-901 Fee. The U.S. school will give you a form, Form I-20, that you will need to present to the consular officer while attending your visa interview. In case your spouse and/or children also have plans to stay with you during your study program, they must get individual Form I-20s. Person(s) intending to reside with you won't be paying the SEVIS fee.
For gaining knowledge about the educational opportunities for undergraduate and graduate study, opportunities for scholars, admissions, etc., you can visit the Department of State EducationUSA website and for better information about the SEVP- certified schools, you can visit the DHS Study in the States school search page. Further, you can visit the U.S. Immigration and Customs Enforcement (ICE) Student and Exchange Visitor Program (SEVP) website to have detailed information about SEVIS and SEVIS I-901 Fee.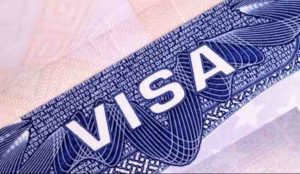 Steps to Apply for U.S. Visa:
There are a few steps involved in applying for a U.S. visa. However, their chronology and completion might differ at the U.S. Embassy or Consulate you intend to apply. Go through the instructions mentioned on that embassy's or consulate's website.
Online Visa Application Completion: Start by completing the online visa application, that is, the Online Nonimmigrant Visa Application, Form DS-160, including uploading your photo. Your photo must be in accordance with the requirements stated. Also, take print out of the application form confirmation page that you will be needing at the time of interview.
Interview Scheduling: You must arrange for your visa interview appointment at the U.S. Embassy or Consulate in your country of origin or living. It is always recommended to apply for a visa early because of the variations in the wait-times for interview appointment depending upon location, visa category, etc.
For individuals of age not more than 13 years and not less than 80 years, generally, interviews are not required.
If you are a new student, you will be issued F-1 and M-1 visas utmost 120 days prior to the commencement of your study course. But, you will only be allowed to enter the United States when 30 days are left to the start date of the course. However, in case you are a continuing student, you may renew your visa at any time, provided that you continue to maintain your student status and you have current SEVIS records.
Fee Payment: In case you are asked to make the fee payment before your interview, you'll need to pay the non-refundable visa application fee. If it is applicable to your nationality, you may also make the required payment of the visa insurance fee, once your visa gets approved. Visit the embassy's or consulate's website, where you will apply, for more instructions and details about the fee and its payment.
Documents' Collation: There are certain required documents that you need to carry with yourself while you go to the interview. Such documents include your passport (valid for at least 6 months beyond your stay period in the U.S.), separate application for each person having inclusion in the passport, Nonimmigrant Visa Application, Form DS-160 confirmation page, application fee payment receipt (if asked to pay before interview), photograph (in case photo upload with Form DS-160 fails) in prescribed format, Certificate of Eligibility for Nonimmigrant (F-1) Student Status- For Academic and Language Students, Form I-20 or Certificate of Eligibility for Nonimmigrant (M-1) Student Status for Vocational Students, Form I-20.
You might be requested to present some additional documents by the embassy or consulate you will apply at, such as, your academic preparation (transcripts, diplomas, degrees, or certificates from schools you have attended and standardized test scores required by your U.S. school), your intent for departing from U.S. after your course completion, sources or means to pay all expenses (including educational fee and living and traveling costs).
Attending Visa Interview: This process determines whether you are qualified to receive a visa or not. If the consular officer finds you eligible, appropriate visa category is assigned to you. As a part of this process, digital fingerprints will be taken. However, this is subject to your location.
If your application requires further administrative processing, it will be informed by the consular officer. And, once your visa gets approved, you may make the payment of visa insurance fee (if applicable as per your nationality). You will be informed about the returning process of your passport with visa to you.
Entering the United States: You might be permitted or denied the admission to the U.S. at the discretion of the Department of Homeland Security (DHS) and U.S. Customs and Border Protection (CBP) officials at the port-of-entry. The CBP official will provide you with an admission stamp or paper Form I-94, Arrival/Departure Record, if your entry to the U.S. is allowed. The head Arrival Procedures for Students or Exchange Visitors on CBP website will properly guide you about the procedures to follow for students, with F or M visas, for entering the U.S. The website will also provide information about admissions and entry requirements, restrictions about carrying food, agricultural products, etc.
Further detailed insights pertaining to the above explained heads are delineated on the U.S. Department of State's Bureau of Consular Affairs website and the U.S. Department of Homeland Security's Study in the States. You can also check for specifics relating to extending your stay in the U.S., change of status, etc. on these pages.
Comment below for any questions regarding How To Apply For US Student Visa? Guide.
Also check Canadian Student Visa Guide
Share: How To Apply For US Student Visa? Guide on social media.
How To Apply For US Student Visa?
How To Apply For US Student Visa?
How To Apply For US Student Visa?